"To open a new frontier where no path has ever existed"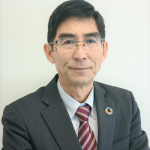 Happy new year.
For sustainable growth, we actively undertake work style reforms and health management during the coronavirus crisis, while promoting activities to achieve the SDGs. In addition, for labor shortage and national resilience, we aim to develop products that utilize ICT and improve customer service through DX.
We look forward to your continued support and encouragement this year as well.
January 2021
Morooka Co., Ltd.
Masami Morooka/ CEO
Morooka Group Mid-term Management Plan (2019-2021)  
「Be the Great Niche Company 」