"To open a new frontier where no path has ever existed"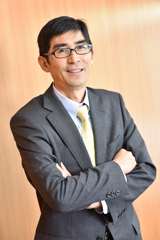 Our products have contributed on domestic as well as overseas market.
Our company has started as Construction Company in 1958 and it marks the 60th anniversary in March, 2018.
Now, all of us have been working out on mid-term business plan "GO⁵ MOROOKA 2020" for providing quality and innovative products satisfying the customers.
 Morooka Co., Ltd.
President Masami Morooka
New 5 year Mid-Term Management Plan   「 GO⁵ MOROOKA 2020 」