MST-2200VDR
11ton payload Full-Rotation crawler carrier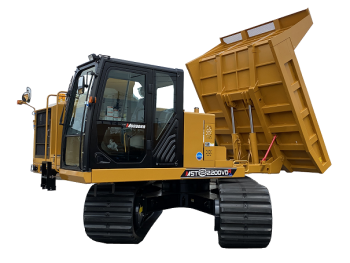 ≪Full-Rotation Crawler Carrier Series≫
  Upper structure rotating 360 degrees.
MOROOKA's huge VDR model promise the optimal efficiency and productivity.
Max. payload:11,000 kg
Minimizes pivot turns frequently
The MST-2200VDR has to turn the undercarriage less frequently due to its rotating upper structure, allowing you to work more efficiently.
It helps reduce to job site surfaces along with helping the crawlers last longer.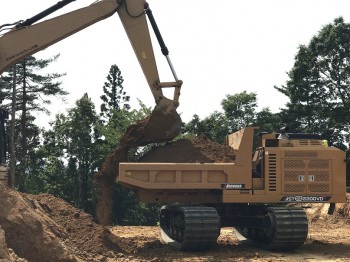 MST-2200VDR from MOROOKA's developed rotating carrier series
MOROOKA has manufactured a wide variety of carriers.
The MST-2200VDR has great abilities : heavy loading, high engine power, full metal body and large diameter dump cylinder.
All that combined contributes to long-term durability and higher payload.
MOROOKA, Be Worldwide
Earth is our field. Over the years, Morooka opened new frontiers with its own technology. Driving on muddy surface is our specialty and we do it better than anyone else.
Well-conceived structure for safety
2 travel levers, powered by hydraulic pilot control, provide intuitive operation and high mobility on jobsites.
Comfortable cabin
An air-conditioned & spacious cabin increases the operator's comfort.
Caterpillar C7.1 Engine
Engine compliant with exhaust emission regulations, EPA Tier 4 Final, EU Stage IV
EPA Tier4 emissions regulation compliant "Caterpillar C7.1" installed.
Greatly reduces emissions of PM (particulate matter) and NOx (nitrogen oxides). Helps contribute to environmental protection.
Dimension / Specification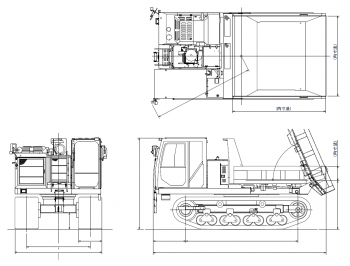 MST-2200VDR
Machine Weight
16,000 kg
Maximum Payload
11,000 kg
Loading Capacity (Struck/Heaped)
3.98 m³ / 6.29 m³
Engine
CAT C7.1
Tier 4 Final, EU Stage IV
Rated Output
186.5 kW / 2,200 rpm
Battery
12V, 140Ah (5 hour rate) × 2
Overall Length
5,900 mm
Overall Width
2,980 mm
Overall Height
3,280 mm
Dump Bed (Length × Width × Height)
3,200 mm × 2,750 mm × 500 mm
Dump Angle
60°
Ground Clearance
580 mm
Slew Radius
3,380 mm
Crawler Width
800 mm
Drive System
HST
Travel Speed (Lo/Hi)
8.0 / 10.0 km/h
Ground Pressure (Empty)
35.4 kPa
Structure
Cabin, ROPS / FOPS II
Fuel Tank Capacity
300L
Travel Lever Type
2 levers
Dump Bed Type
Scoop End