Mr. Masami Morooka visited our Korean distributor, Honwon last week.
We presented a trophy to Mr. Park Myeongsik and Ms. Park Suyeon, to show our deep appreciation for their contribution to the sales of Morooka Products in Korea in 2014.
We are looking forward to continuous and successful business together in 2015.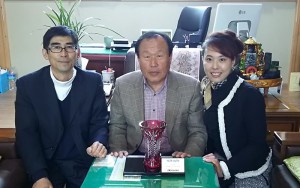 (From left to right)
Mr. Masami Morooka, Mr. Park Myeongsik, Ms. Suyeon