MRC-3000
Maximum Processing Diameter

 

450mm
Tough undercarriage & Compact design
Thick, seamless rubber tracks provide outstanding durability! The rubber crawler is driven by The HST (Hydro Static Transmission) system. Hydraulic drive transmission provides smooth movement.
MRC-3000 is self-propelled, so it can drive directly into the jobsite with its fold-able discharge conveyor.
Specialized for crushing large diameter and long material!
The greatest advantage of the horizontal grinder is that long materials can be crushed quickly. The maximum processing diameter is 450 mm, and the cutter rotation speed and material feed speed can be set arbitrarily, so that high-quality wood chips for biomass fuel can be produced in an appropriate size.
Automatic reverse system
If the cutter drive pressure or cutter rotation speed drop rate falls below the set value during crushing, the feed roller and feed conveyor automatically reverse to prevent material clogging. With this function, materials can be crushed smoothly.

*The setting value can be changed.
Choice of crushing blade and screen size
Crushing blades and screens can be selected from several types according to the size and shape of the material to be produced.
Improvement in maintainability

Each components are arranged for efficient inspection and maintenance. The front grille which has a large opening, making it easy to perform inspections and maintenance.
Emergency stop switch
3 emergency stop switches are installed on both side faces of the product body and operation console.
*Do not use the emergency stop switch except in an emergency
Remote control
Equipped with a remote control for crushing operation. Operations such as starting and stopping material feed and stopping the engine in an emergency can be performed from the operator's cab of the hydraulic excavator that feeds materials, reducing the user's burden.
 Specification / Dimensions
 Dimensions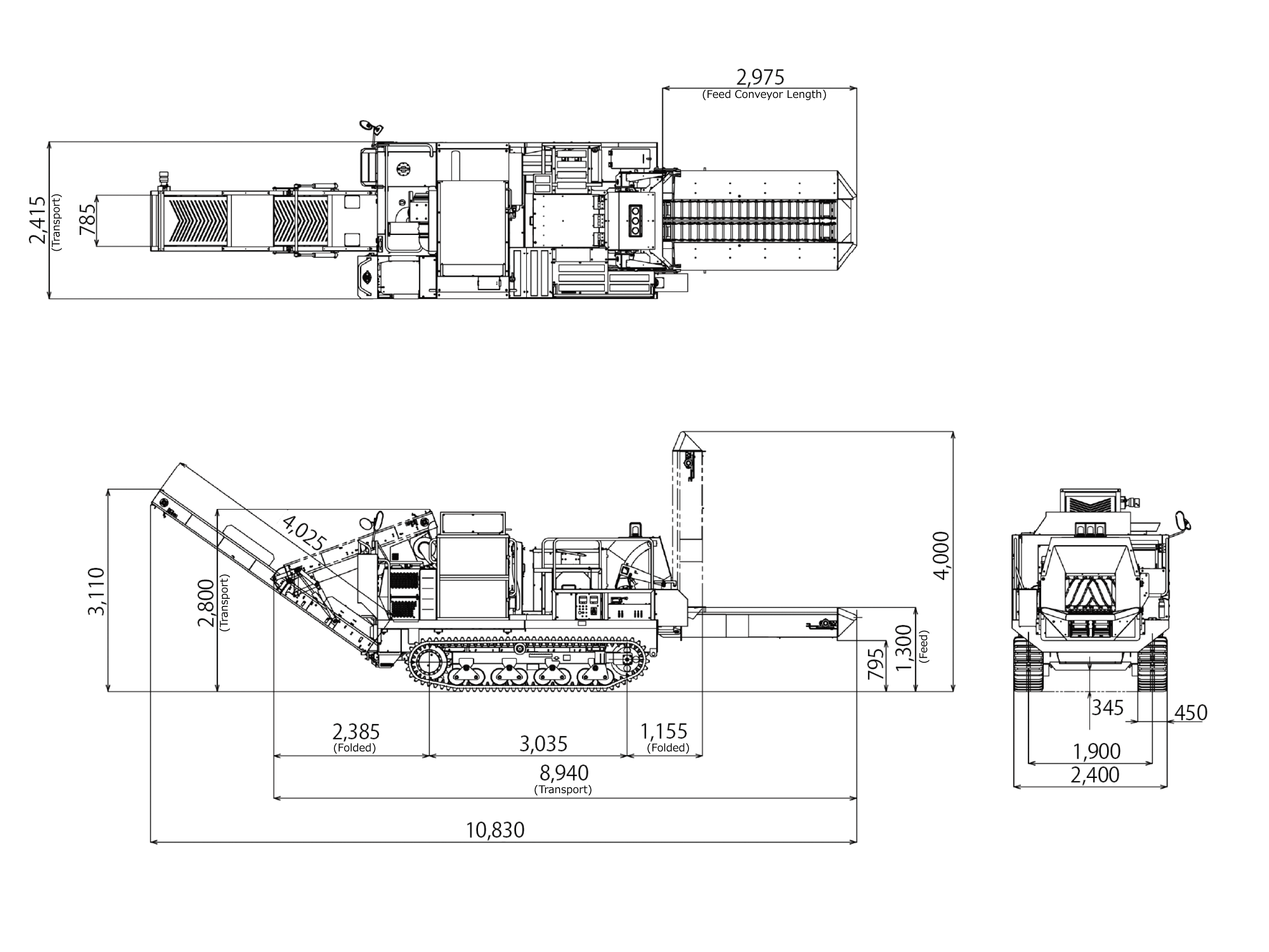 Specifications
MODEL
MRC-3000
Dimension & Performance
Travel Speed(High/Low)
kph
3.0/2.0
Ground pressure
kPa
59.1
Machine Weight(
kg
13,700
Overall Length
(Conveyor folded)
mm
10,830(6,575)
Overall Width
mm
2,415
Overall Height
mm
3,110
Ground Clearance
mm
345
Crawler Width
mm
500
Overall Length (Transport)
mm
8,940
Overall Height (Transport)
mm
2,800
Conveyor Dimension
Discharge Conveyor Length
mm
4,025
Feed Conveyor Length
mm
2,975
Conveyor Ground Clearance
mm
3,110
Feed Dimension & Crushing Blade
Maximum Processing Diameter
mm
450
Mill-box opening (Width × Height)
mm
770 × 540
Crushing Blade
Cutter Blade, 6pcs
Engine
Name
Caterpillar C7.1
Nominal Output
kW(HP)/rpm
186.5(250)/2,200
Fuel
Diesel
Tank Capacity
Fuel Tank Capacity
ℓ
395
DEF Tank Capacity
ℓ
32
Emission Standard
Tier4 Final/ EU Stage Ⅳ